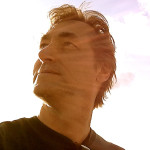 I am astounded by the power of music; I've loved noise ever since I can remember.
I write music for advertising and I compose, orchestrate and experiment with new technologies. Back in time, I was a staff songwriter for A&M's publishing company and a solo artist signed to CBS / Sony Records, then MTM Records, and then Atenzia Records.  I've had the fortune of studying music and writing music with great composers, and I've been fortunate to have worked with talented songwriters, performing artists, orchestras, dance choreographers, and film makers. Sometimes we make memorable music, other times . . . not so memorable.  It's all great to me.
I continue to work with creative folks in advertising, aspiring musicians and film makers and I'm a member of several music communities in Los Angeles and New York, including SCL (Society of Composers & Lyricists) and ASCAP (American Society of Composers, Authors and Publishers).
If you are here to request music for your new venture, you can contact my admin via this form.   I hope you are finding wonderful music wherever you go.
Brian