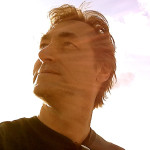 First of all, thank you for listening to my music; I am always astounded by the awesome individuals who reach out to me to talk about music or ask me to work on music with them or for them.  Like many of you reading this, I'm a creative at heart and I've loved making noise ever since I can remember – I can't imagine life without it.
I've been fortunate to have the opportunity to write music for film and advertising, and I love to compose, orchestrate and experiment with new technologies. I started as a staff songwriter for A&M's publishing company many years back which led to recording and performing solo rock albums for CBS / Sony Records, MTM and Atenzia Records.  I've studied music for several decades with many great teachers including Judith Zaimont and Dominic Argento, both of them masters of so many musical forms and approaches.  Along the way I earned music degrees in composition & piano performance, but I will tell you that the most influential thing that had the biggest impact on me is the magnificence of music across this planet, so diverse and moving that it keeps me listening, writing, performing and recording music year after year. I've been so lucky to have collaborated with a diverse range of artists – rock and pop songwriters, performing artists, orchestral and chamber groups, dance choreographers, and film makers.
Lately I've been composing music for commercial spots for clients (e.g. Coca-Cola, IBM, Amazon, Vivendi) and writing music for programs on American Public Radio and Public Radio International.
I'm a member of several music communities including SCL (Society of Composers & Lyricists) and ASCAP (American Society of Composers, Authors and Publishers) and I manage my publishing company, Hoon Toons Music. If you would like to get in touch, please use this contact form.
Thanks again for visiting, I hope you are having a great year and finding great music wherever you go.
Brian