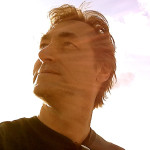 I am astounded by the power of music; I've loved noise ever since I can remember.
I write music for advertising and I compose, orchestrate and experiment with new technologies. Way back in time, I was a staff songwriter for A&M's publishing company and a solo artist signed to CBS / Sony Records, then MTM Records, and then Atenzia Records.  I've had the fortune of studying music with some great composers and I continue to love composition & piano performance.
I've been lucky to have worked with talented songwriters, performing artists, orchestras, dance choreographers, and film makers. Sometimes we make memorable music, other times . . . not so memorable.  It's all great to me.
Lately, I've been working with advertising makers and writing music for programs on National Public Radio and for creative people I love who are working on their pet projects.
I'm a member of several music communities in Los Angeles and New York, including SCL (Society of Composers & Lyricists) and ASCAP (American Society of Composers, Authors and Publishers) and manage my publishing company, Hoon Toons Music.
If you want to reach out, please use this contact form.
I hope you are finding wonderful music wherever you go.
Brian