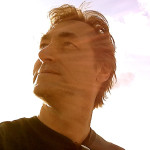 From Classical music beginnings to rock albums to composing music for film and advertising, Brian has a solid reputation in the music industry as an inventive and agile composer and orchestrator.
Brian's past experience includes  working as a staff songwriter for A&M's publishing company, recording and performing solo rock albums for CBS / Sony Records, MTM and Atenzia Records.  Brian has studied composition and orchestration with composers Judith Zaimont and Dominic Argento, gaining music degrees in composition & piano performance. He has written, performed and recorded music in concert halls, studios and many other venues throughout the United States and Europe.
Recent projects include composing music for commercial spots for major clients Coca-Cola, IBM, Ring, and Vivendi, working with major companies and events, and writing music for programs on American Public Radio and Public Radio International.  As a frequent collaborator, Brian has composed music with a diverse range of artists, from rock and pop songwriters and performing artists to orchestral groups, dance choreographers, and film makers.
Brian is a member of SCL (Society of Composers & Lyricists), ASCAP (American Society of Composers, Authors and Publishers) and manages his publishing company, Hoon Toons Music. Please use the contact form if you would like to get in touch.